The key components of the Teaching are :                                                                                                                             
Printed course materials supplied by the university;                                                                 

Face-to-face contact sessions at study centres;                                                               

Pre-recorded video and audio lessons;

Radio broadcasts daily at a fixed time in six half-hour slots four days a week;

Live two way audio and one way video teleconferencing;

Live phone-in radio conferencing;

Summer school for some programmes;

Laboratory practical training at zonal study centres for science subjects;

Reference library facilities; and 

Lectures and seminars on topics of social relevance and current importance.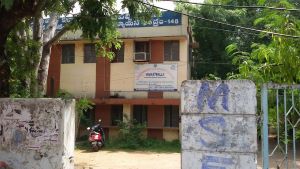 EMR&RC
Syllabus oriented effective programme production of the centre is being done with the contribution of intellectual inputs from the Internal and External faculty members. Apart from curriculum based programme production the centre also documents all the University programmes like Seminars, Conferences, Memorial lectures etc.,
Electronic Media Resources and Research Centre (EMR&RC) Provides  Audio-Visual education to the Distance Learners. It is a complimentary instruction in addition to the Course Materials. Audio and Visual presentation is more focussed on the Course material with the goal of improving comprehension and retention. Audio-Visual Resources aid in enhancing effective Learning through educational materials directed at both the senses of hearing and the sense of sight, films, recordings, photographs, etc. used in classroom instruction, library collection or the likes. Thus, EMR&RC aims to attract and sustain learners attention and generates interest across different levels of distance learners. Accordingly, University arranges multiple windows to understand the syllabus oriented lessons in an efficient manner.